News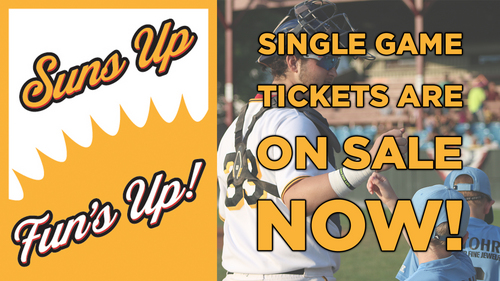 "The tickets are coming, the tickets are coming!"

Had Paul Revere been a Pittsfield Suns fan (and we'd like to think he would be), that's what he'd be calling today as the Suns put single-game tickets on sale for the 2019 season. Tickets can be purchased here.

Fans can now get tickets for any of the 28 regular season games to be played at Wahconah Park this summer. The season opens two weeks from today, with a May 30 match-up against the Bristol Blues that will be followed by the first fireworks show of the summer. Opening Night is presented by the Pittsfield Cooperative Bank.

The Suns' season includes five postgame fireworks shows and four T-shirt giveaways, not to mention a Diamond Dash, a host of theme nights, and even a birthday party for the team's loveable mascot, Ray. Wahconah Park's 100th anniversary will be celebrated throughout the summer. The complete promotional schedule can be found here. Click here for the team's full season schedule.

Suns tickets are wildly affordable. General admission tickets are only $7, and box seats—which put you within the five rows of the action—are just $11. Better yet, fans will enjoy a $2 discount if they buy their tickets in advance, making box seats $9 and general admission tickets a paltry $5 apiece.

The team also offers a bevy of picnic, birthday, and group options, ranging from discounted tickets to fully-catered, exclusive hospitality opportunities that are perfect for businesses and organizations. For more information, please contact the Suns office at (413) 445-7867 or info@pittsfieldsuns.com.

Tickets for the 2019 Futures League All-Star Game at Wahconah Park on July 16 will go on sale in the near future, the team added.

Host Families: The Suns are seeking host families for the 2019 season. Hosting a player gets you closer to the team than ever, but it's so much more. When a Suns player lives with you for the summer, he becomes a part of your family, forging a relationship that becomes much bigger than the game. Did we mention you also receive free season tickets! If you're interested in learning more about the host family program, please contact the Suns at (413) 445-7867 or info@pittsfieldsuns.com.

Season tickets for the historic 2019 season are still on sale. Grandstand season tickets are just $130. Step up to box seats—the best seats in the house—for just $200! Season tickets include all the fun and excitement of Wahconah Park's 100th anniversary, not to mention the Futures League All-Star Game. For more information on season tickets, call the Suns office at (413) 445-7867 or email info@pittsfieldsuns.com.

To follow all the news as the Suns prepare for the 2019 season, visit the Suns official web site at www.pittsfieldsuns.com. Join the conversation with other fans by visiting the Suns on Facebook, Twitter, and Instagram.