News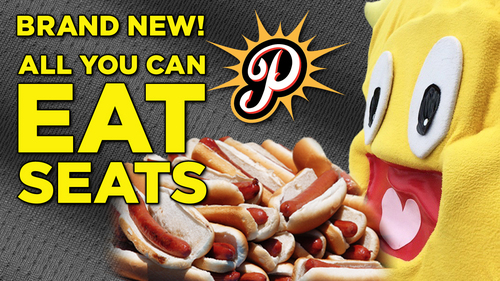 The Suns on Sunday unveiled a new seating option that caters to hearty appetites and buffet-lovers throughout the Berkshires: All You Can Eat seats.

Fans sitting in the AYCE (rhymes with "ace") seats can eat and drink all they want from the All You Can Eat menu, all game long, all for one price. Better yet, AYCE fans don't even have to get out of their seats: the Suns wait staff will deliver food right to fans in the AYCE section. An AYCE ticket for any game of the season is just $20, and that covers both game admission and all you can eat throughout the game.

The AYCE menu will include hot dogs, burgers, corn dogs, nachos, popcorn, fountain soft drinks, and bottled water. Guests sitting in the AYCE section can also purchase any other concessions – including beer! – and have it delivered right to their seats by wait staff.

AYCE tickets not only deliver great food, but also a fantastic view of all the Suns action. The seats are located in the first row of the grandstand, behind sections 103 and 104, just to the first base side of home plate.

There are only a limited number of AYCE seats for every game, so fans are encouraged to purchase them early. Click to the Suns online ticket portal, select any game, and you'll find the "All You Can Eat" seating section at the bottom of the list on the right.

One night the AYCE seats are sure to be a hit is Opening Night, this Thursday at historic Wahconah Park. The Suns kick off the season against the Bristol Blues, followed by an explosive postgame fireworks show. Game time is 6:30 PM, with the gates opening at 5:45. Opening Night is presented by the Pittsfield Cooperative Bank.

The season opener will be followed by a weekend slate of games at Wahconah Park. Saturday is Luck of the Irish Night, when we celebrate Irish heritage and take on the Brockton Rox. The gates will open at 5:15 PM for a 6:00 first pitch.

The Suns will use the force when they battle the Westfield Starfires on Sunday for Star Wars Night. Gates open at 4:15 PM for a 5:00 first pitch.

The Suns' complete promotional schedule can be found here. Click here for the team's full season schedule.

To follow all the news as the Suns prepare for the 2019 season, visit the Suns official web site at www.pittsfieldsuns.com. Join the conversation with other fans by visiting the Suns on Facebook, Twitter, and Instagram.