News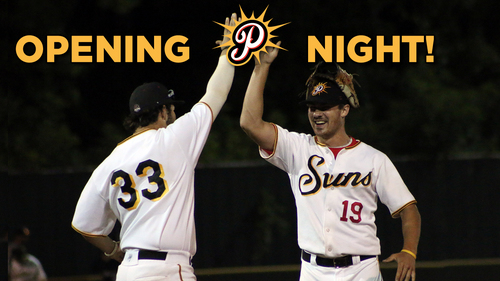 If you were looking for something to make you feel warm inside, we at historic Wahconah Park have a little news for you: tonight is the Pittsfield Suns' OPENING NIGHT! And let's not forget, FIREWORKS!

That's right, the 2019 Suns season kicks off tonight with an opening night bash at Wahconah Park. Gates will open at 5:45, with first pitch scheduled for 6:30. The 2019 rendition of the Suns open the season by taking on the Bristol Blues.

We'll cap the evening by lighting up the night sky with an explosive postgame fireworks show. Opening Night and the fireworks are presented by longtime Suns partner, the Pittsfield Cooperative Bank.

Tickets for tonight's game are available online here. A limited number of box seats are still available for $11, or feast all night long in the new All You Can Eat seats for $20. General admission tickets are $7.

The season opener will be followed by a weekend slate of games at Wahconah Park. Saturday is Luck of the Irish Night, when we celebrate Irish heritage and take on the Brockton Rox. The gates will open at 5:15 PM for a 6:00 first pitch.

The Suns will use the force when they battle the Westfield Starfires on Sunday for Star Wars Night. Gates open at 4:15 PM for a 5:00 first pitch.

The Suns' complete promotional schedule can be found here. Click here for the team's full season schedule.

To follow all the news as the Suns prepare for the 2019 season, visit the Suns official web site at www.pittsfieldsuns.com. Join the conversation with other fans by visiting the Suns on Facebook, Twitter, and Instagram.