Broadcast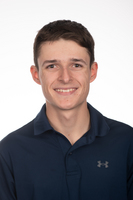 Zach Bianco
Color Commentator
Zach Bianco is a current full time student (sophomore) attending Westfield State University, majoring in Communication. He is a 2021 graduate of Lee High School and has been involved in broadcasting since before high school.
It all started when CTSB (Community Television for the Southern Berkshires) came to his middle school to give students the opportunity to produce a TV show for the school. This increased his interest in broadcasting, and has since been interested specifically in Sports Broadcasting.
This is the first season that Zach will be alongside Billy Madewell calling Pittsfield Suns games. Zach also currently broadcasts the home sports games for the Westfield State Owls and has done color and play by play for baseball, softball and lacrosse.
Zach enjoys playing and watching sports, specifically baseball and basketball, with favorites in the Boston Red Sox and Boston Celtics. He is also a runner and has been running ever since he can remember, competing in cross country in high school, finishing top 10 in Berkshire County in the 2021 season. Zach also enjoys spending time with family, friends at school, and learning in the classroom.