Front Office Staff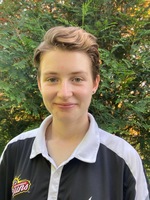 Margot Douillet
Director of Operations/Bullpen Coach
E-mail:
This is Margot's fourth season with the Pittsfield Suns and second as Director of Operations. She began as an intern in 2018, and made the mistake of volunteering to do the team's laundry once. Since then she has taken on the role of Equipment Manager as well as Bullpen Coach.
A native of Housatonic, Margot graduated from the University of Michigan with a B.S. in Statistics. Her passion has always been the analytical side of baseball, and in her (little) free time, she runs lineup simulations and makes shift charts for the team. Starting in the fall, Margot will be an M.S./M.B.A. candidate in Sport Management at Umass Amherst's Isenberg School of Management.
When she's not at the ballpark, Margot will be passing you in her little silver Miata.